Website Design/Redesign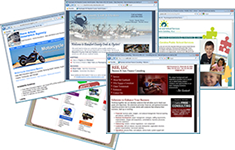 J & S Website Designs provides custom websites designed specifically to fit your business. Like an artist, we start with a blank white canvas. We do not use templates - each design should be unique to your business, thus allowing your company to establish, market, and maintain your company branding online.

Many business owners already have a website, but it is either incredibly outdated or does not function well. It may also not be "search engine friendly" according to Google's standards. A website redesign is often the best solution to continue promoting a positive online presence. We will redesign your site to ensure that it meets industry standards and is aesthetically pleasing.
Responsive Web Design

Desktop computers are no longer the norm. The use of iPads and Tablets has dramatically increased - it is time to think about how your website will look on these devices?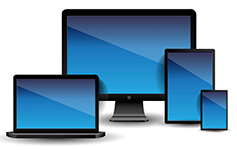 What about your mobile website design considerations? Your website needs to be responsive! Meaning, your website can be built to respond appropriately based on the type of device it is being viewed on; for example a desktop computer, laptop, tablet, or phone. This does not mean separate websites need to be designed for each device - it simply means your design will adapt (or respond) accordingly. This is accomplished by taking your design a step further and applying media queries that control the display according to the device being used.
Mobile Website Design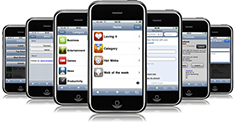 One in five Internet users access the 'net primarily through their smartphones. Almost two-thirds of cell phone owners go online using their phones. This means that your website needs to be properly programmed to fit the screens of smaller smartphones, mobile and portable devices. If your website is not mobile friendly you could be missing out on potential sales for your business!

Responsive website design is great, but responsive websites are not truly for cell phones. Mobile websites take responsive website design to the next level through strategic planning and design. Is your website mobile ready? Contact us about preparing your business or organization for the advancing marketplace.
E-Commerce Shopping Carts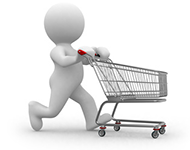 Take your business to a new level, by selling your products or services online; allowing customers to make electronic payments via debit or credit card. J & S Website Designs offers eCommerce website design and development, including back office software integration solutions, saving you time and generating sales. A Paypal Shopping Cart system is a great choice for businesses who need to sell multiple products online. The shopping cart allows us embed "Add to Cart" buttons on your website. Customers can browse items, make multiple selections, and see shipping, taxes, and any other costs upfront. Sellers can configure variables such as items, sizes, amounts, prices, shipping costs, as well as collect taxes - all done over a secure network.


Social Media Integration
Promoting your website through social media channels can be a powerful strategy that can attract attention, traffic and links. By including Social Media on your website, you're helping your visitors to discover new ways to connect and engage with your business. The social connection isn't just between your business or organization and the visitor. Through Social Media, visitors to your website can recommend you to other people.

We help you set up Social Media services and brand them to match the design of your website. Social Media is integrated into your website, enhancing the functionality of the social connections on your pages.
Search Engine Friendly Design

In order to improve your site's interaction with users and search engines, our website designs are designed to follow Google's best practices outlined below.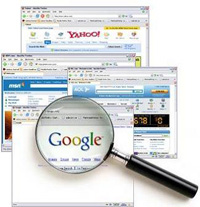 We design each page of a website to make it easier for search engines to crawl, index, and understand your websites' content. These changes may seem small, but when combined with other optimizations, could have an impact in organic search results. SEO services include research and implementation of proper:
Keywords and keyword phrases
Unique, accurate page titles
Unique "description" meta tags
Easier site navigation
Appropriate use of heading tags

Content rich pages
Better written anchor text
File naming conventions
Creating site maps
Effective of use of robots.txt
Prices and fees are determined on a case by case basis. Unless we know what your needs are, it would difficult to place an exact price on services rendered. Call us at (361) 793-9683 for a free consultation to discuss how we can meet your needs.